Posted by Thelma Wells on Aug 3rd 2016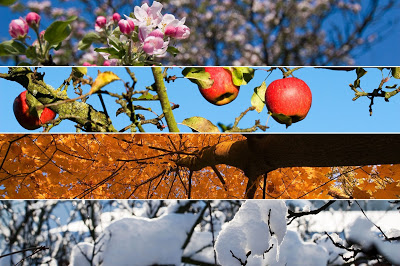 To everything under the sun there is a time and a season. These seasons bring about changes in our lives, attitudes, status, positions, hopes, dreams and priorities. Some of these seasons are like springtime when the grass is green, the flowers are blooming, the rain is soft and sweet and the little animals come out to play. In fact, the world may seem like a playground then and we go about feeling the cool breeze as we dream of swinging higher and higher. Everything is wonderful in its own way.
The hot summer season watches us stew and steam in the smoldering heat and drip with sweat as we go about our days and nights. The discomfort of this season reminds me of the smothering situations of life that make it difficult to breathe as we keep gasping for air. This can be an unsettling time when things are not going well for us. We wonder, "Where is God to cool us off?"
The fall of the year brings more beauty and balance and helps us began to get a grip on these situations that have easily beset us. Soothing and tantalizing fragrances waft to our nostrils and enhance the appreciation for the colors of the falling leaves and the beauty of the earth and sky. Crisis and circumstances seem a bit more under control and things may be calming down to a pace that we're able to master. Life is not so unbearable. We can enjoy the crisply blowing winds that cool us down to a manageable temperature. Not a bad season at all.
Winter reminds me of the quiet, dormant, still, even cozy and cuddly settling down from the ups and downs of life into a place of quiet rest and anticipation for a new tomorrow. We can cover ourselves with the light wraps of thought-provoking activities and daydreams of the impending festivals and celebrations to come.
In each of these seasons we can rely on the love of God with His mercy and grace to guide us, protect us, provide for us, comfort us and open our eyes to what we can learn in all the different seasons of our lives. As King Solomon said in Ecclesiastes 3:1 says (in the New Living Translation): For everything there is a season, a time for every activity under heaven. Enjoy them all. He designed them for us to learn from.
Thelma Wells' passion to inspire everyone to "BEE" the best never slows down. For more than 30 years she's been traveling globally speaking to corporations, government agencies, and at national Christian conferences—like Loved: The Farewell Tour, where you can find her most weekends this fall.